Strength.
While we all feel the strain of pandemic and environment matters and now an imminent federal election weigh on us, it is amazing how we still function and push through these warped times. Notably, looking back, we may see we have changed ~ or perhaps are still in the process of personal change. I can only speak for myself.
Change is a GOOD thing, and important. Staleness and same-old are what makes people morose and uninterested. 
Change is important. Like it or not, we all must change our learnt human behaviours ~ the ones that got us to the imminent demise, the edge of the cliff, of no return from the climate crisis.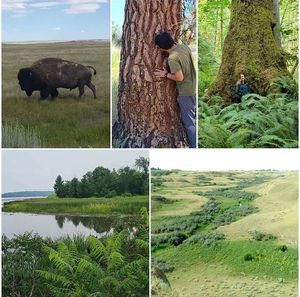 No longer do I feel the urge to perform music. It feels, well, wrong to me at this time. Especially the 'promoting myself' part feels REALLY odd, when there are so many other and better ways to use my diminished energy and try make a difference somehow. 
Besides, Jazz is dead in Sault Ste Marie and rehearsals are 'out'. Ideas for shows are abundant, but unrealistic. Fair enough, I still passionately listen to Jazz ~ sing it when I can, at home. 
As musicians and artists, we have to be 'into ourselves' and there's nothing further from my desire. The ego however has a way of surfacing, but simply writing is what I can do with my energy right now and how I can learn about global, national and local issues around me in the process. I am in personal and global survival mode. 
During these times of extreme and sudden climate change weather events, I would like to encourage you to check out, even maybe consider supporting:
https://www.endangeredecosystemsalliance.org/donate
@endangeredecosystemsalliance
Positive results evolve from positive action:
In a nutshell, the imminent Goal is to present their new short films at the 
UN Biodiversity Conference & UN Climate Summit in October
Time for positive change here in Canada and around the World.
If that does not give us n*ew energy ~ I don't know what does!
*
Horace Silver ~ Song For My Father
Love it.
https://www.youtube.com/watch?v=NFjmWI-d6d4
*
Yoga with Adriene ~ Strength
https://www.youtube.com/watch?v=z0q2K-ot_R4
*
Namaste
Britta
@solit_moons